Sanipro Rinse 1L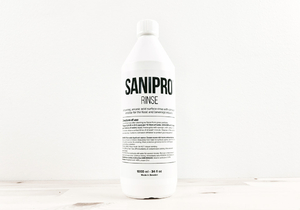 Sanipro Rinse is a foaming, environment friendly, anionic acid based final rinse for sanitizing equipment. It is odour free, tasteless, does not leave any spots, and contains a corrosion inhibitor that makes it ideal for stainless steel and sensitive surfaces. The self foaming action allows the product to get in everywhere and do it's job. Stable across a very wide temperature range.
Use it as a final rinse - rinsing with water afterwards is not necessary or recommended. Just let air dry.
Tip: Always have a spray bottle pre mixed with diluted Sanipro at hand.
Made in Sweden.
Dosage 1 cap (12,5 ml or 0,5 fl.oz) per 10 liters of water. Recommended contact time is at least 1 minute.
Volume 1000 ml / 34 fl.oz